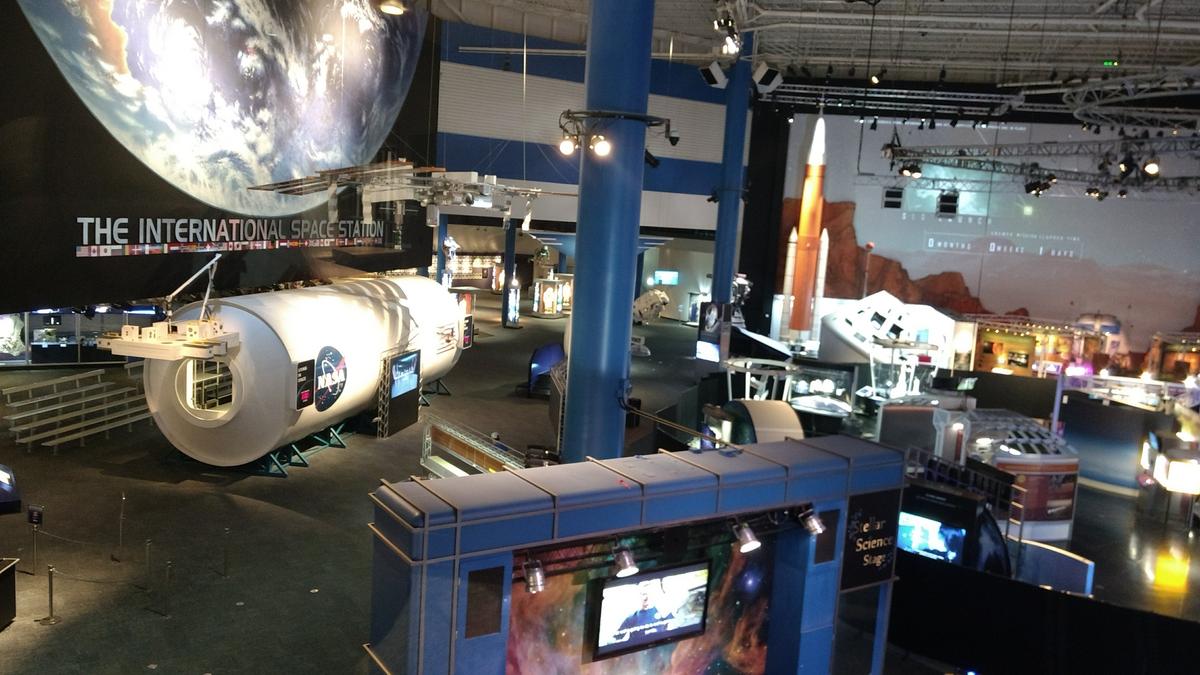 This summer at Space Center Houston, visitors will get the chance to build a virtual fighter jet and race it. They'll get to fly as a goose and see a NASA jetpack.
This is all part of Above and Beyond, a new exhibit at Space Center Houston, the visitors center run by the nonprofit Manned Space Flight Education Foundation at NASA's Johnson Space Center. Above and Beyond opens April 21 and will close Sept. 9. Above, check out photos from Houston Business Journal's sneak peek at the exhibit and the historic Mission Control that's undergoing renovations.
The new exhibit brings the challenges and fun of flight to life with virtual reality, model planes, videos and galleries. Guest can interact with the different materials for aircraft, perform wind tunnel tests and take a virtual 200-mile-long elevator ride from earth to space — a concept that NASA researchers are looking into now.
Using motion-sensory technology, guests can fly as geese in a v-shape over mountains, water and forests. They can build a supersonic fighter jet — by selecting a body shape, tailplane and wings — and then race the design against two others using a joint stick.
Planning for the Space Center Houston's new exhibit started about six years ago, Exhibits Director Paul Spana said. His friends at San Antonio-based Evergreen Exhibits approached him, saying they were working on a new aerospace exhibit that would be perfect for Space Center Houston. At the time, Evergreen knew the name would be Above and Beyond and that it would have interactive learning opportunities but had few other details. But that's all he needed to hear.
"I select exhibits based in STEM (Science, technology engineering and math) to inspire the generation of tomorrow," Spana said. "I look for interactives."
He explained that maybe a guest won't remember everything they learned at a museum, but an interesting interactive exhibit could spur him or her to search for more information at home to trigger their memory and learn more.
Last year, Space Center Houston opened the roughly $3 million permanent exhibit Mission Mars to let guests explore the future of space exploration. In the exhibit, children — and adults — can virtually design space suits and pack up cargo shuttles. They can touch a Martian rock and experience gravity differences with weighted backpacks. There is also a gallery where guests try to match Martian landscapes with Earth formations.
Trusting Evergreen Exhibits, Spana signed Houston Space Center up for Above and Beyond despite the few details. He later learned that the museum exhibition company had partnered with Chicago-based The Boeing Co. (NYSE: BA) to develop Above and Beyond in celebration of the aerospace company's 100th anniversary, which was in 2016. Models of aircraft and shuttles made by Boeing are also on display at the exhibit.
It costs around $200,000 to lease an exhibit, and Space Center Houston secured a sponsorship with The Coca-Cola Co. to bring Above and Beyond to the Bayou City, Meridyth Moore, a public relations specialist for Space Center Houston, said.
Mission Control renovations
Additionally, the visitors center is currently restoring the historic Mission Control Center, also known as the Mission Operations Control Room or MOCR, to reflect the authentic look and feel of the Apollo 11 mission. The $5 million project began in July 2017.
"Time had taken its toll, " Moore said. "Some buttons on the consoles are missing, the carpet is stained and the cigarette smoke from the early years put the ceiling in bad shape."
For example, former NASA Flight Director Gene Kranz noted that the "Abort" button on his console was missing, she said.
The restoration project — which should be finished in time for the 50th anniversary of the Apollo 11 mission on July 20, 2019 — will also make repairs to the viewing area, the so-called "bat cave" that housed the technology to project information onto the screens in the control room, the simulation control room and the recovery control room. Space Center Houston and its partners are even working with NASA historians to collect furnishings, books, notes and coffee mugs to replicate the atmosphere in 1969.
Last April, the Webster City Council approved a $3.5 million gift for the project. In July, the nonprofit launched a Kickstarter campaign that raised more than $500,000, per its project profile. The city of Webster also promised to match each gift dollar for dollar, up to $400,000.
However, the restoration project is $1 million short of its goal, Moore said. To get the last $1 million, Space Center Houston will apply for grants and most likely host another fundraising campaign.
NASA Johnson Space Center is coordinating the renovations using the money Space Center Houston raises. Contractors working on the project include  Ayuda, GRAVitate, Cosmosphere, Stern and Bucek Architects, Audio Video Guys and Basic Builders Inc., Moore said.
Guests of Space Center Houston can still see the Mission Control room as it undergoes renovations. It along with Above and Beyond are included in a day ticket:
Children three years old or younger: Free.
Children between four and 11 years: $24.95
Adults between 12 and 64 years: $29.95
Seniors above 65 years: $27.95
At its peak visitors times, such as the summer, Space Center Houston has about 300 employees, Moore said. According to its latest Form 990, the nonprofit made around $27 million from program services, and its net assets were $13.3 million in 2016.
via Houston Business Journal https://ift.tt/2vyaTCr