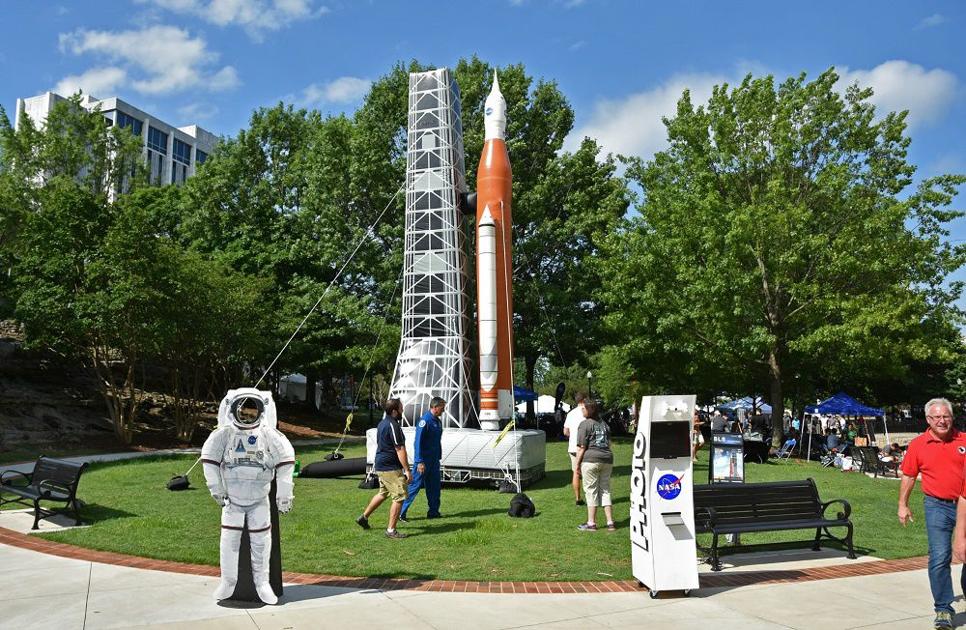 A pillar of Huntsville is celebrating a historic milestone and all are invited.
Marshall Space Flight Center is celebrating NASA's 60th anniversary with its annual NASA in the Park, Saturday from 10 a.m. to 3 p.m. in Big Spring Park. Co-hosted by Downtown Huntsville Inc., the center will step outside the gates with exhibits, educational activities and games, food trucks, live music by Marshall musicians and learning opportunities for space enthusiasts of all ages.
"It is about highlighting Marshall's history from the beginning to now," Marshall Space Flight Center historian Brian Odom said.
More than 60 exhibits highlighting NASA's six decades of space exploration will dot the landscape of Big Spring Park and subject matter experts will be available to perform demonstrations and answer questions.
Retired NASA astronaut Robert "Hoot" Gibson, a veteran of five space shuttle missions, will be on hand to visit with the public throughout the day. At 10:45, Gibson and Marshall Center Director Todd May will lead a children's parade through Big Spring Park with youngsters accompanied by their families. Immediately following at 11 will be a program at the music stage with remarks from Gibson, May, Downtown Huntsville Inc. CEO Chad Emerson and other guests.
In previous years, NASA in the Park has focused on current work but this year will also take a look back at the past, Odom said. They will include displays about the history of space exploration programs and include artifacts from those missions, such as an actual moon rock. Combining the center's past and present will make this NASA in the Park bigger and better than ever.
"This is an opportunity for the community to engage with the program," Odom said. "It gives people an idea of the diverse work here at Marshall. That's the cool thing about it."
For more information about NASA in the Park, follow Marshall on socialmedia – Twitter handle @NASA_Marshall, on Facebook at @nasamarshallcenter and also on Instagram, handle @nasa_marshall. Join in the conversation online using #NASAinthePark.
via The Redstone Rocket https://ift.tt/2JCAXD1