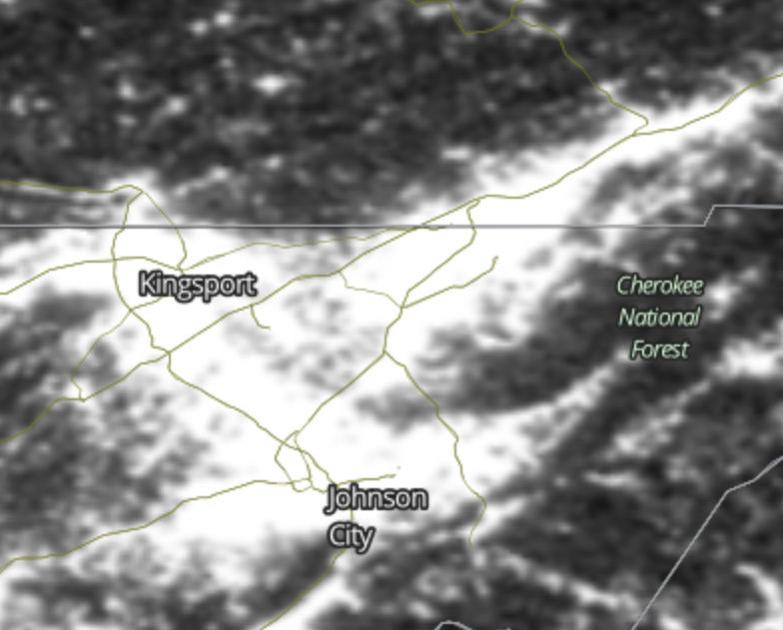 BRISTOL, Tenn. — On Aug. 19, 2017, the last Bass Pro Shops NRA Night Race, Bristol and the surrounding area were awash in light.
Images from NASA's Worldview tool show that vehicles illuminated Interstate 81 all the way to Blacksburg and Roanoke, the Tri-Cities appeared to glow and Bristol Motor Speedway, imperceptible on the map, was part of the fluorescent blob of Bristol.
The photos were taken using the Visible Infrared Imaging Radiometer Suite aboard the joint National Aeronautics and Space Administration and National Oceanic and Atmospheric Administration Suomi National Polar-orbiting Partnership satellite. The Suomi was launched Oct. 28, 2011, to be the first satellite to replace the Earth Observation System. It picks up natural light, moonlight and manmade light sources using infrared capturing sensors.
The Suomi floats above the earth at an altitude of roughly 518 miles. It orbits the Earth about 14 times per day and observes nearly every location at roughly 1:30 p.m. and 1:30 a.m. All of those images are available to the public within minutes or hours of acquisition through NASA's Worldview tool, which was launched in 2016.
In another image from Aug. 5, clouds clearly obscured the lights. The only lights visible were in Bristol, Virginia, and Tennessee, Kingsport and Johnson City.
Image quality can be affected by the moon's cycle, seasonal vegetation, clouds, aerosols, snow and ice cover. Ryan Boller, lead of data visualization at NASA's Earth Science Data and Information System Project, said there will be an upgrade in the fall that will improve image quality and adjust for factors that affect it.
The images aren't just for fun or research, though. In the future, NASA, the Federal Emergency Management Agency and the Department of Energy hope to regularly produce power outage maps and integrate the information into recovery efforts by first-responders.
The Worldview app also allows users to look at other things detected by the Suomi such as earthquakes, flooding, fires and other phenomena.
via NASA – Google News https://ift.tt/2vRz7Fc